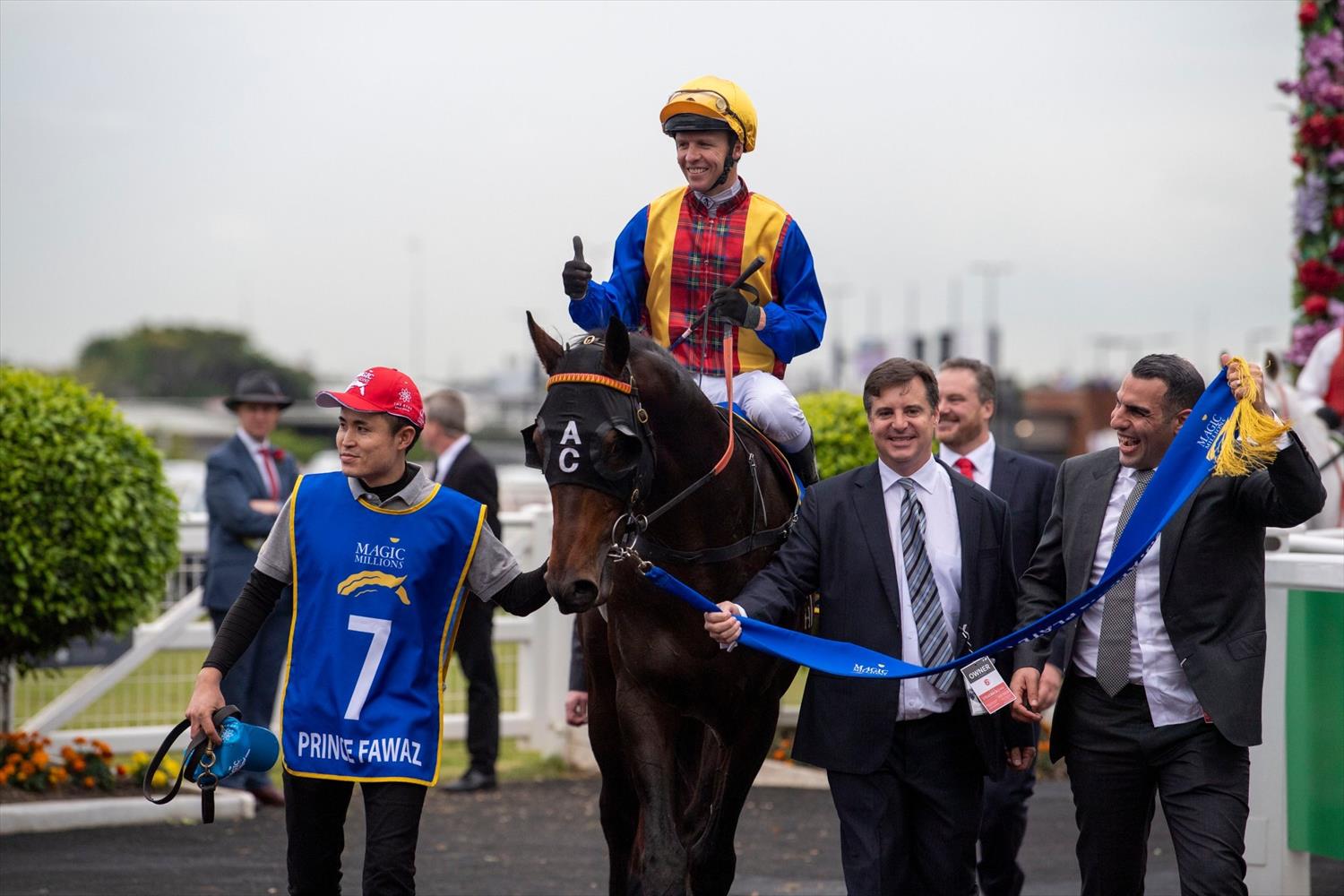 Prince Fawaz is a horse of firsts: For Paul Pisani and his mates, he is their first horse; For Fastnet Rock, the colt is his first two-year-old group 1 winner; and for Anthony Cummings, it was the first time he missed a group 1 victory because of a plane delay.
Cummings watched on as Kerrin McEvoy drove Prince Fawaz ($4) through the centre of the field to run down Kubrick ($18) to take the JJ Atkins on Saturday, with Reloaded ($6.50) a couple of lengths back in third.
It set off wild celebrations in the mounting yard from the ownership group, which had named the horse in memory of a friend.
"I'm stuck in Sydney. I gave it a good cheer. That hasn't happen before, being stuck because a plane didn't go," Cummings said. "Luckily the horse did.
"I think the boys in him are really going to party from what I saw on TV."
Prince Fawaz proved the strongest and most mature two-year-old at the mile and Cummings has ambitions plans for the spring.
"The horse is only going to get better, and we have a group 1 already. It is great for Fastnet Rock," he said.
"We will get him to the Golden Rose first-up and the Caulfield Guineas and Cox Plate are races he could line up in as well."
While Cummings had to watch for Randwick, Pisani and his mates celebrated the victory. It was the first time they have been at the races to see him win.
"This is amazing. We had a friend who died a couple of years ago, and we said we would get a horse and name it after him. His name was Mark and his second was Fawaz, so that is where Prince Fawaz comes from.
"It took us a while to find a horse, and I met Ed Cummings at a wedding in Sicily and he said we had a couple to choose from, and we went for the two-year-old.
"The rest is history. It is actually the first time we have been to the races altogether because we had a wedding when he won at Randwick.
"But that worked out well, because Mark's family were there that day and got to enjoy the win. This just doesn't happen."
Pisani looked to the sky during the presentation and said "this one is for you, Marky Mark."
It was a pretty ride from Kerrin McEvoy, who waited for the run to come, and then Prince Fawaz took it and accelerated to chase down Kubrick, which had looked the winner when he dashed clear.
"We got a nice trail, but they didn't go that quick the first half of the race and I thought about burrowing out and getting him clear at the 700 but sat tight and the horse did the rest," McEvoy said.
"He has certainly got gears, and when he got there it felt like there was more there if I needed it.
"He is certainly going to be better horse in the spring, and there are exciting time ahead."